In this article, we are going to talk about how to protect carpeted stairs. In order to make the stairs more comfortable and secure to walk on, many people opt to place a carpet. This also adds style and color to the staircase so that it matches with the rest of the house décor.
However, a major drawback of placing a carpet on the stairs is that it becomes a haven for dirt, spills, and stains from people's footprints and pets. Also, the carpet may get dents and tears when furniture is being moved up and down.
Fortunately, there are a number of ways you can protect your carpeted stairs, which we shall discuss below.
How to protect carpeted stairs from dirt and damage
Apart from spills and stains caused by family members, foot traffic especially when moving houses or when contractors are doing repairs in the house makes the carpet prone to dirt and wear and tear.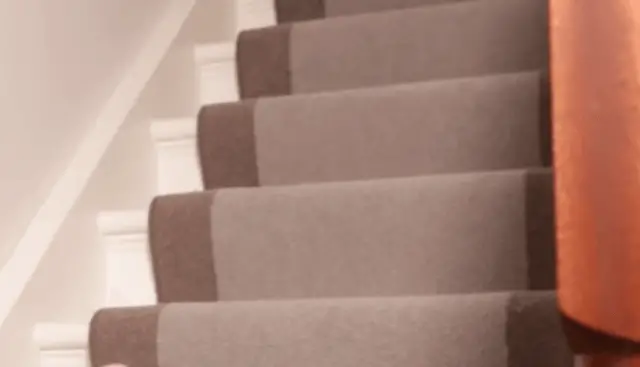 Thus, it is important to protect it even if it's temporary so that it lasts long.
This can be achieved by using a stair carpet protector, stair trends, or vinyl runner among other methods.
1. Stair carpet protector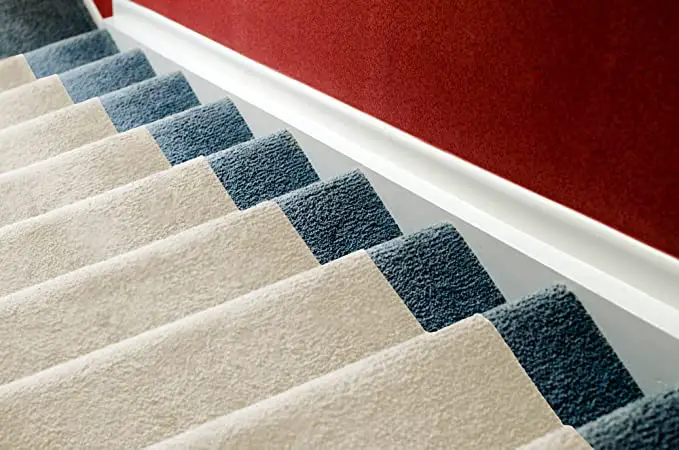 One of the simplest ways is by using a stair carpet protector. The protector covers the carpet preventing wear and tear due to foot traffic as well as dirt and stains.
There are different types of protectors available from different brands but the LAMINET Carpet and Floor Protectors come highly recommended.
This is due to the fact that they have a unique non-slip backing that adheres strongly to all types of carpets whether shaggy, high pile, medium pile, or low pile.
In addition, these protectors can be used on tile or hardwood flooring and come out without leaving any residue or mark on the floor.
Also, they can be removed easily for washing or when moving houses.
---
See also: Best high pile carpet chair mat
---
2. Stair treads for carpeted stairs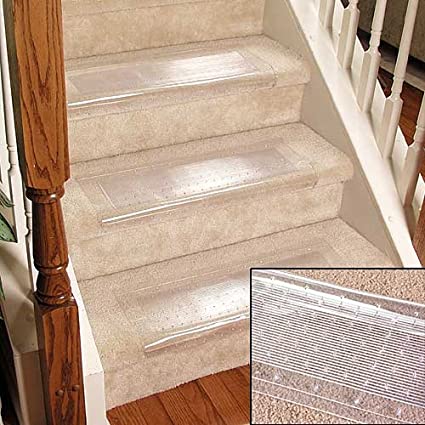 During my research, I found several stair treads for wooden or tiled stairs. It was difficult to find some designed specifically for carpeted stairs.
Luckily, I came across these Clear Vinyl Stair Treads that have gripper teeth to allow them to grip the fibers on the carpet and stay in place. The teeth make them ideal for thick or high pile carpets.
You can install them on a low pile or no pile carpets using double-sided carpet tape and they will firmly stay in place.
These treads come in a set of 2 each measuring 24 inches wide by 8 inches deep. So they can fit any standard size stairs.
They are the only stair treads that can allow you to protect your carpet while still enjoying the beauty of the carpeted stairs.
---
3. Temporary carpet protector film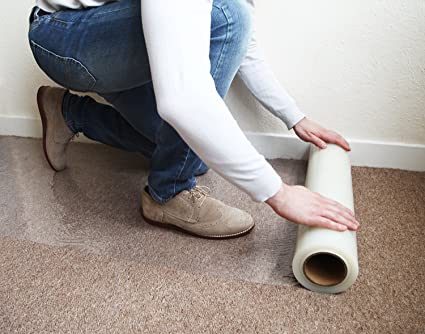 Carpet protection films offer temporary protection on carpets against pills, dirt, dust, and other damage especially when moving or during house repairs.
They are made using a strong blend of polyethylene which makes them very durable and resistant to wear and tear.
A good example is the Kenley Carpet film that offers maximum protection. It is lightweight yet very strong and can be installed on the carpet for up to 45 days.
In addition, it has acrylic adhesive on the bottom side to allow it to attach to the carpet securely. Despite its strong adherence, it is easy to remove without leaving marks or residue.
---
See also: How to keep an area rug in place on carpet
---
4. Vinyl runner for carpeted stairs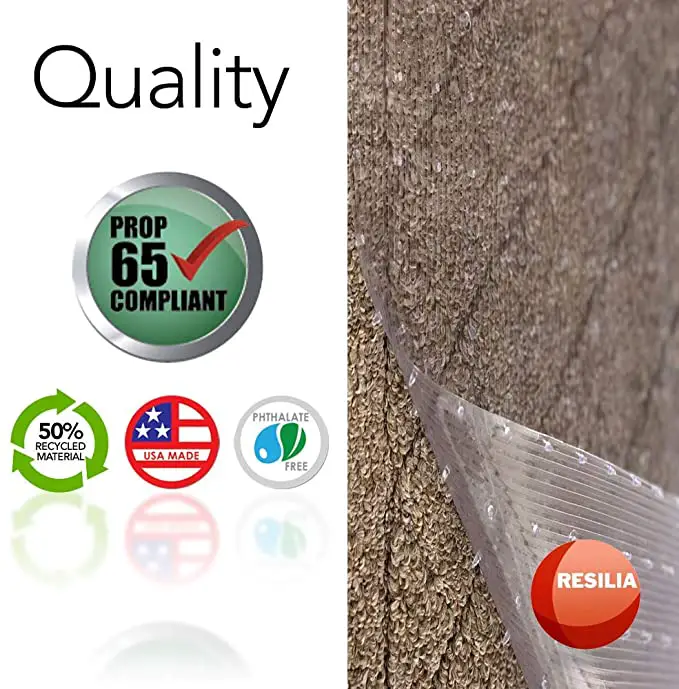 Vinyl runners also offer protection while allowing you to see through the beauty of your carpet on the stairs.
On the bottom, they are designed with long grippers for holding firmly onto the carpet and prevent sliding. Thus, they should not be used on hardwood floors since they can easily damage them. They should also be avoided on the tiled or concrete floors because they will not stay in place.
If you want to protect your carpeted stairs with a vinyl runner, go for Resilia clear vinyl plastic floor protector.
It comes in different sizes and can be customized easily by cutting with a utility knife or a pair of scissors to get a size that perfectly fits your stairs.
Moreover, Resilia vinyl protector is free of toxic compounds like phthalate, DINP, and Prop 65 contaminants.
Conclusion
If you like the idea of covering your stairs with a carpet, you should not worry about keeping it clean and preventing wear and tear.
We have highlighted some of the ways on how to protect carpeted stairs. You can use a stair carpet protector, stair trend, temporary carpet film, or a vinyl runner.
Choose the method that will meet and needs depending on whether you want a permanent solution or a temporary one.